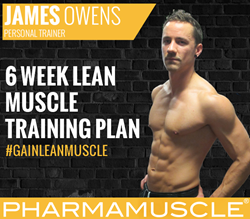 (PRWEB UK) 31 October 2014
The free six-week programme will see James Owens updating a blog on http://www.pharmamuscle.com/blog to give an insight into what it takes to gain lean muscle mass through exercise, healthy eating and regular sports nutrition.
A four part introduction to the programme has already been published and will soon be followed by six weekly blogs that chart James Owens progress as he increases his body's lean muscle mass.
All of James Owens training schedule, Pharmamuscle supplement intakes and dietary plans will be published upon completion of the programme, giving fitness fanatics and those wanting to get healthy a real chance of increasing their muscle mass.
To celebrate the launch of the programme, Pharmamuscle.com will be launching a competition next week in which one lucky winner will receive one large tub of Pharmamuscle Wheymax hydrolysed whey protein isolate, worth £79.99.
The Pharmamuscle brand is built on three principles; innovation, science and quality. From its Wheymax hydrolysed whey protein, to its Opti-Glutamine Powder, every product uses 100% pure ingredients to provide a premium health and fitness product.
Marketing manager Geoff Blaine, said: "We have teamed up with experienced personal trainer James Owens to show just how effective our products can be when combined with a healthy diet and strict exercise regime."
"Furthermore, we wanted to provide a useful case study and programme that would be freely available to all. This includes men and women from all backgrounds and at all levels of fitness."
"Our products are also approved by the Vegetarian Society and the premium ingredients contain no artificial binders or fillers."
James Owens said, "Over a number of weeks, I'll be blogging about the entire process of my training regime, from the initial planning stages and goal setting, right through to the concluding week of analysis. I'll be posting weekly updates about my exercise regime, will be publicly reviewing my diet and will offer recipes, tips and tricks for those trying to gain lean muscle mass."
"Best of all this is based around simplicity. There will be nothing fancy, you don't need to be an experienced lifter, there will be no complex training protocols, no hardcore meal plan, no training two times a day, it is a plan that most can follow and build into their daily routine."
You can view the six week programme by visiting http://www.pharmamuscle.com. Social media users can also track the progress of James by following him on Twitter at @JamesOwensPT or by following @pharmamuscle.